There's nothing like a real Christmas tree to get your home in the spirit of the holiday season, and to give you a reminder of it every time you walk through the door with its unmistakable scent ?nobody knows this more than interior designer Emily Sappington.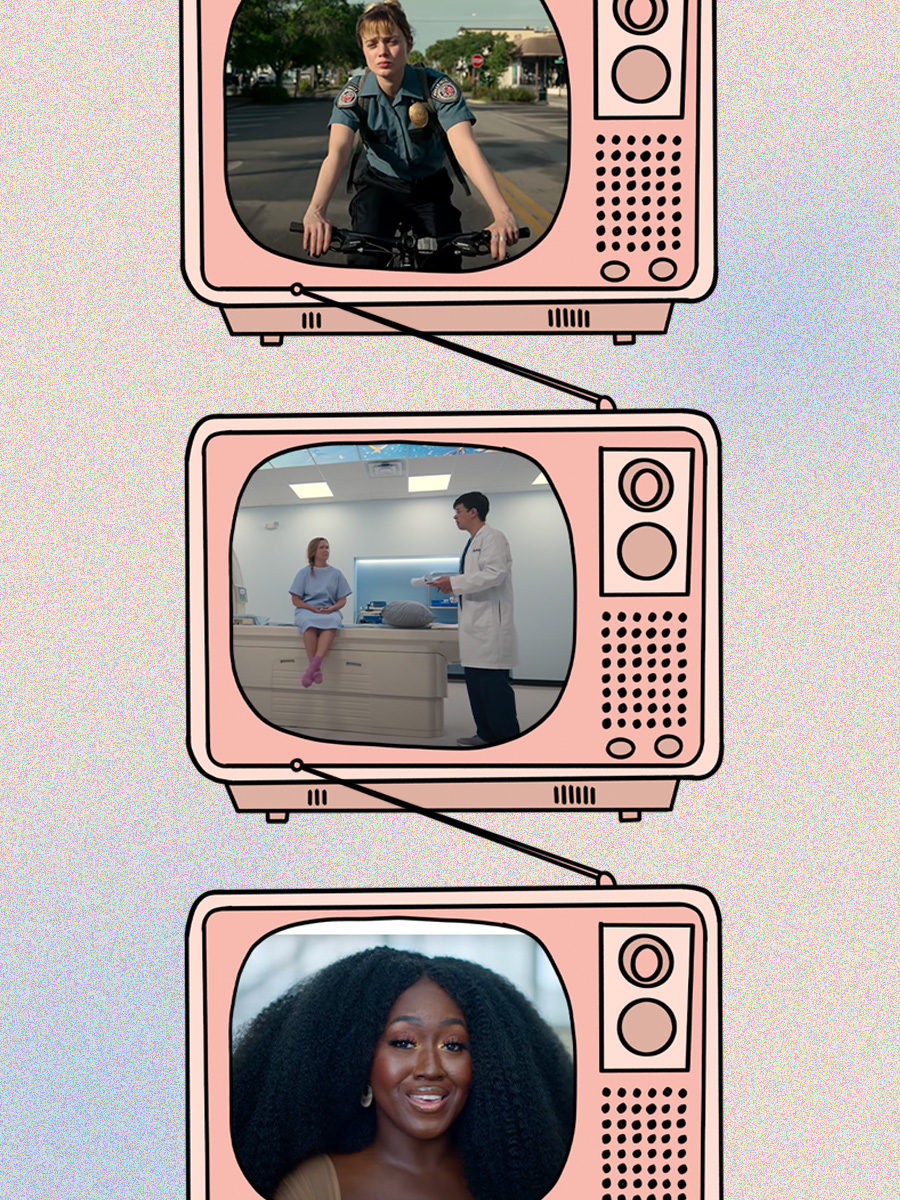 CURRENTLY TRENDING / CULTUREThe New Shows and Movies We'll Be Watching This Monthour complete streaming guide 🛋️READ MORE
Emily's home is full of real garland, and a real tree ?always. After growing up with a real tree, she kept the tradition for her own home, too.
Emily told us about her favorite holiday traditions, how she decorates her home, and all of the things she looks forward to most about the holiday season.
Name: Emily Sappington,Commercial Interior Designer, NCIDQLocation: Florence Park, Tulsa, OKSq. Ft: 1,700
When do you start decorating for the holidays?
We have a strict no-decorations-before-Thanksgiving policy, so ideally we string lights outside on the house and buy a live tree the Saturday of Thanksgiving weekend to kick off holiday decorating.
Tell us about your holiday decorating process.
I try to make the process as quintessential as possible: a holiday movie playing the background (Christmas Vacation is a fave), and mulled wine or spiked eggnog to sip on while decorating the tree are musts. I always love buying fresh garland to display in various areas of the house which smells AMAZING for weeks. I ask for free tree clippings to decorate our reusable grapevine wreath forms for the front door and add a pretty ribbon bow for a simply styled entry. I don't feel the need to decorate fully in one weekend; I enjoy the process and do a little each weekend.
How do you budget when it comes to decorating seasonally? (Things can get expensive for such a short time of the year!).
The majority of my decorations can be stored and saved for years to come, like my garland hanger that fits in a doorway, and the grapevine wreath forms which can be filled with greenery year round for seasonal wreaths. I look for vintage ornaments at estate sales and antique stores and grab the good ones whenever I see them. We also purchase an ornament every time we take a trip to a new place. I try to only buy decorations when the holidays are over and they're deeply discounted.
Where do you shop for holiday decor?
McGee & Co. has become a new favorite source! I love their simple, understated ornaments, tree toppers, and other little decor items. I also shop at west elm, CB2, Target, and Michaels.
Do you have any holiday traditions that are special to you?
I am a firm believer that it's never too early or too late to start new traditions, and one new tradition we are doing this year is an Advent wreath. I grew up lighting the candles each week of Advent, but this year we're diving into the meaning behind it all and I am finding it really special.
Do you have any tips for readers who may live in smaller apartments (and who are on a budget) who might not be able to decorate to their heart's desire?
If you can forage for evergreens or ask a tree farm for scrap clippings (they're usually free) it is so easy to make your own garland or add to vases or even form several small wreaths. A new thing I'm going to attempt this year is making my own oven-dried orange slice garland, which is a very inexpensive way to decorate, and since it doesn't scream holiday you can keep it up well into January or even February. A small tabletop tree is affordable and totally counts!
What was your childhood home decorated like at the holidays, compared to your own as an adult? Did you take any influence from your childhood when putting your own together?
Growing up we always bought a live tree, which is probably why I'm still so adamant about that today. We really only ever decorated for Christmas, no other holidays, and I stick to that premise now as an adult. We didn't have a color scheme for our ornaments, they have been collected over the years and even handed down from my grandparents. Some are from the 40s!
How has decorating for the holidays evolved over the years for you?
When I was just out of college, I didn't have any decor or ornaments, but did splurge on a live tree and invest in lights. The fragrance and glow was enough to make my rental feel decked out.
Have you slowly been collecting your holiday decor over the years, or did you purchase it all at once?
I have slowly been adding to my holiday decor collection for several years. My taste tends to change slightly over time, so I usually try to buy things that give me feelings of happiness rather than selecting what is trending this year. I enjoy the nostalgia that comes with vintage and handed down decor, which can take time to acquire.
Do you have a favorite ornament on your tree?
My aunt recently gifted me an antique silver pendant with intricate detailing that was not originally meant to be an ornament but looks so beautiful on the tree.
What's your favorite piece of holiday decor that you own?
My garland hanger! It's so easy to install and doesn't damage the walls.
Overall, what's your favorite thing about celebrating in your home?
We are still working on filling our house with furniture and decor for the non-holiday time of the year, so with the additions of the Christmas tree, garlands, and wreaths, our house feels so much more cozy and homey. I always feel a little sad when it all has to come down, but that just inspires me to keep decorating!
What does your Christmas morning look like?
This year we're alternating time between my family and my husband's family, so we're planning on spending the night at my parent's to wake up to family time and gifts at my childhood home. My mom typically makes a delicious brunch that makes the day feel very special.
Do you have any holiday traditions you haven't started yet, but are planning to?
We don't have kids yet, but when we do I imagine we'll make Christmas morning a very special time with a make-ahead baked breakfast, fun pajamas, a fire in the fireplace, and some kind of game that dictates who opens the next present.
Emily is The Everygirl…
Hot chocolate or hot cider?Hot cider with lots of spices.
Favorite Christmas song?O Holy Night (gives me goosebumps every time!)
Favorite Christmas movie?White Christmas is such a classic.
Favorite Starbucks holiday drink?You can't go wrong with a peppermint mocha!
The best gift you've ever given?The first Christmas my husband (then boyfriend) and I were together, I made him a personalized map of Tulsa with locations marked of special dates and memories we'd made throughout that first year of our relationship. It's one of the only times I've seen him tear up.
Gift at the top of your list this season?You know you're in your thirties when you ask for home improvement stuff. This year I've asked for a video doorbell!
The great debate: when do you start listening to Christmas music?Just as soon as the weather gets chilly and feels like winter! It makes me so happy!