Source: @josie.santi
"Hey, did you try that new serum?" "What do you think about the new Fenty launch?" "I'm looking for a new moisturizer. What do you recommend?" As editors, we're bombarded daily with questions about the beauty products we love. What we're using, what we're loving, and what we're recommending—we get it, blindly picking up a product off a shelf is setting yourself up for a lot of potential disappointment. Instead, sit back and read all the beauty products our editors are using and loving right now, from moisturizers to lip gloss to shampoo and more.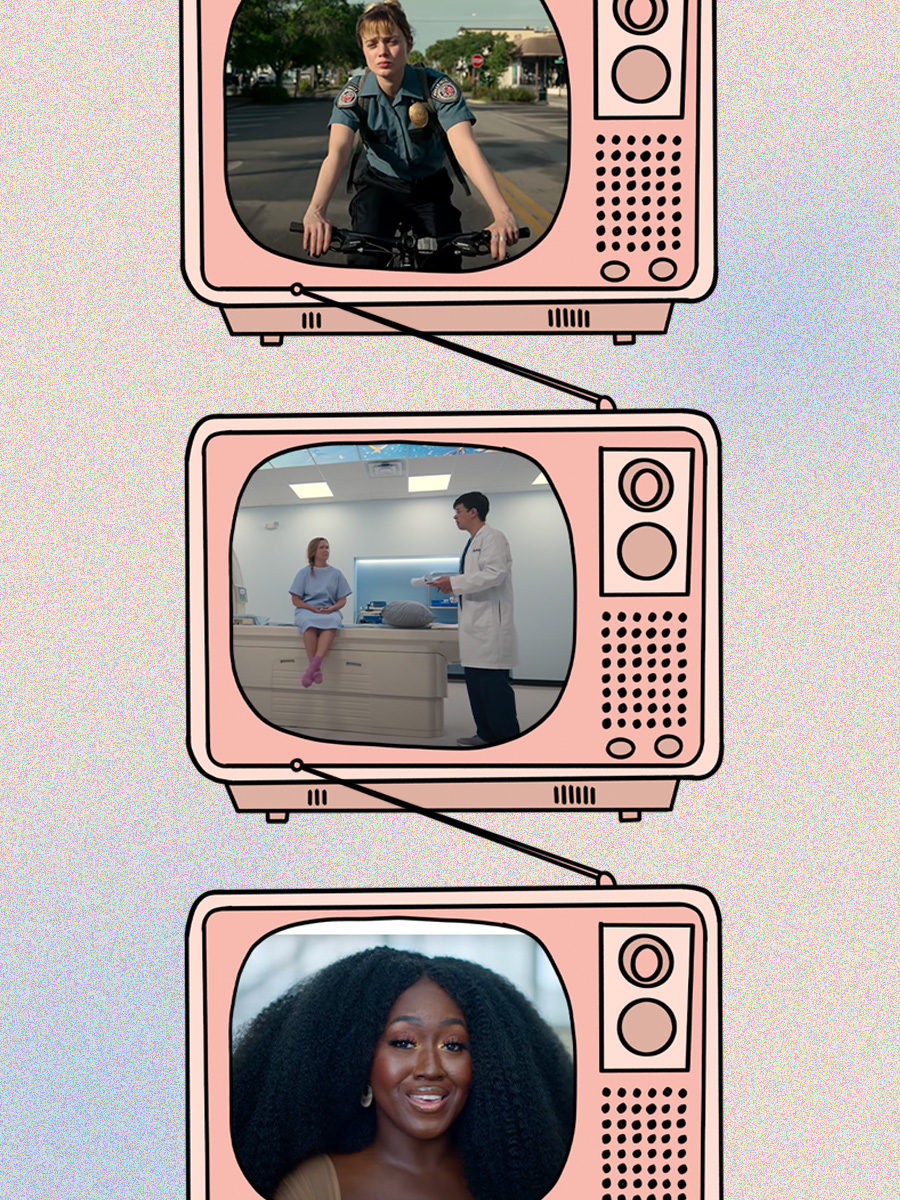 CURRENTLY TRENDING / CULTUREThe New Shows and Movies We'll Be Watching This Monthour complete streaming guide 🛋️READ MORE
Milk MakeupLip + Cheek Cream Blush Stick
As of lately, I've really been into the no-makeup look, and by adding this blush and concealing a few of my blemishes, it just gives that "umf" I need to look presentable for the day.
—Alex Pizarro, Editorial Assistant
Shop it now
LancômeCils Booster XL Lash Thickening Mascara Primer
Anyone who knows me well knows that I am obsessed with making my lashes look longer. Seriously, I think I have worn mascara every day of my life since I turned 12. I stumbled on this mascara primer from Lancome and fell in love—it gives my lashes the extra length I've always craved!
—Emma Ginsberg, Editorial Intern
Shop it now
Soft ServicesSmoothing Set
This Smoothing Set has been my go-to body product recently. I enjoy following Sydney Utendahl for easy skincare advice, and when she posted about helping to develop this product that helps with texture, acne, and ingrown hairs, I was excited to try it right away. I highly recommend it if you struggle with any of those skin problems. I use the Buffing Bar 1-2 times a week followed by the Smoothing Solution on my problem areas and top it off with the Carea Cream all over. My skin has never been so smooth.
—Keely Geist, Social Media Editor
Shop it now
Color WowDream Coat Supernatural Spray Anti-Frizz Treatment
This anti-frizz and humidity blocking treatment has been a game-changer with the rainy and humid weather we've been having. It lasts through a couple of washes and leaves your hair with a beautiful shine. Usage note: You need to blow dry or heat style your hair to activate the product, but it will give you the shiniest locks you've ever had.
—Keely Geist, Social Media Editor
Shop it now
MorpheLuminous Setting Spray
I've been in the market for a makeup setting spray for over a year, and on my last trip to Ulta, I finally caved and picked up this budget-friendly setting spray. I wore it for the first time last week in NYC to lock in a full face of glam, and not even 90 degree weather or a night of dancing stood a chance.
—Ashley Selleke, Contributing Editor
Shop it now
Patrick TaMajor Brow Shaping Wax
I don't know what kind of sorcery went into the creation of this Patrick Ta Brow Wax, but whatever it is, I can't get enough of it. My brows are typically wild, and by end of day, they end up looking like each eyebrow follicle took a flight to different ends of the continent. This brow wax is tinted and keeps my brows tame all day, which makes it the perfect solution for in-between brow waxes and tints.
—Ashley Selleke, Contributing Editor
Shop it now
Native AtlasCocoa Beach Universal Oil
This oil has become one of my favorite things to have on hand whenever my skin needs hydrating. Not only does it smell like I'm on a luxury vacation on a private island, but it is also made with all natural ingredients! This is the perfect product to apply after you've moisturized to maintain a beautiful and a natural glow.
—Andi Wynter, Contributing Writer
Shop it now
PixiOn-the-Glow Blush
I'm all about a makeup routine I can do in under 10 minutes, and this On-The-Glow Blush makes things super easy! I always had trouble finding a blush color that went well with my skin tone, but Pixi offers three gorgeous shades that look and feel natural. If you're looking to add a subtle tint to your cheeks (or lips!), this is the ideal product to have in your makeup essentials bag.
—Andi Wynter, Contributing Writer
Shop it now
Thrive CosmeticsTriple Threat Color Stick
I've officially given up on a full-face makeup routine, but I can't give up on color and shimmer altogether. I love this Triple Threat Color Stick from Thrive Cosmetics because it is a quick and easy way to look a little more alive and glowy! It can be used as a blush, highlighter, or lip tint and comes in seven colors. Plus, it is 100% vegan and cruelty free!
—Jessica Jones, Social Media Editor
Shop it now
ColourpopWild Nothing Eyeshadow Palette
I've been using this eyeshadow palette all summer long. It's the perfect mix of soft neutrals, with a few brighter or more bold shades (like the shimmery green) that I can use for a fun pop of color. It's also insanely affordable and the perfect size to travel with.
—Jess Welsh, Assistant Editor and Junior Graphic Designer
Shop it now
It CosmeticsSuperhero Elastic Stretch Volumizing Mascara
I've talked about it a million times: I'm a longtime hater of high-end mascaras. I just never really understood the hype, when there are drugstore mascaras that produce the same (if not better) results for less than half the price. However, I received this It Cosmetics mascara as a gift, and I've really been loving it lately. It's the perfect balance of natural and glam, and as someone who often deals with mascara residue under my eyes after wearing it for a while, I really appreciate how long this one stays looking perfect.
—Jess Welsh, Assistant Editor and Junior Graphic Designer
Shop it now
Em CosmeticsMoonbeam Cushion Highlighter
I am a highlighter fiend. But I have some demands: It needs to be color-matched to my skin tone, not pick up on any texture I might have on my skin, and have absolutely no glitter whatsoever. You'd think that was a small ask, but my tried-and-defunct highlighter drawer says otherwise.
Then, I tried this magic, and I have not worn a single other highlighter since. This is blinding and gorgeous, but because of the cream texture, it somehow looks natural. My favorite way to wear it lately has been when the rest of my face is very minimal because it lets this highlighter truly shine.
—Beth Gillette, Beauty Content Manager and Associate Editor
Shop it now
GlossierUltralip
I don't know how they did it, but Glossier made the best lip product I've tried in years. Listen, pre-pandemic, I wore a lip color every single day, so when I could finally see the light at the end of the tunnel and started wearing my lip products again for outdoor happy hours, I went a little haywire ordering new formulas that were 2021-approved (read: glossy, sheer, and tinted). I tried a few shades of Glossier's Ultralip, and now I'm hooked. This is the Goldilocks of lipsticks. Not too sheer, not too opaque, not too sticky, has staying power, and not uncomfortable—it's true lip product perfection.
—Beth Gillette, Beauty Content Manager and Associate Editor
Shop it now
Shani DardenIntensive Eye Renewal Cream
I have always struggled to find the right eye cream for my needs. I want it to do a little bit of everything: moisturize, de-puff, prevent wrinkles and fine lines, decrease my under eye bags and dark circles, make me look like I got 10 hours of sleep last night—is that really too much to ask? Other eye creams usually give you one of those things, and I'm not about to layer eye cream like a skincare maniac (but I thought about it). Enter: Shani Darden's newest launch. This eye cream truly does a little bit of everything, and after using it for a few weeks, I'm already noticing a difference. I've gotten the same amount of sleep, had the same number of late-night Taco Bell runs, and drank the same amount of water, but somehow, my under eyes look so plump and moisturized that I'm using less concealer than ever.
—Beth Gillette, Beauty Content Manager and Associate Editor
Shop it now
View this post on Instagram
Last Month's Favorites:
Laura MercierTinted Moisturizer Oil Free Natural Skin Perfector Broad Spectrum SPF 20
This tinted moisturizer with SPF is the ultimate three-in-one product and my new summer go-to that I don't know how I lived without. These days, I use this instead of foundation, and I absolutely love how lightweight it feels. It provides natural-looking coverage and serves as a great base for powders without making me feel like I'm suffocating under layers of caked-on makeup—perfect for days where it's hot AF outside.
—Ashley Selleke, Contributing Editor
Shop it now
BiossanceSqualane + Vitamin C Rose Oil
I have tried so many affordable vitamin C serums in an effort to save some coin and, in the end, spent a lot of money trying options that didn't seem to make the slightest difference in my complexion. I finally pulled the trigger on this squalane, vitamin C, rose oil situation last month, and let me tell you—it's worth every penny. After just a few uses, my skin was instantly more glowy and hydrated. It's my favorite part of my morning skincare routine, and I'm never looking back.
—Ashley Selleke, Contributing Editor
Shop it now
FarmacyDaily Greens Oil-Free Gel Moisturizer
Every summer, I swap out my thick, creamy moisturizers for a gel formula that's cooling on the skin yet still moisturizing (I live in an old apartment building without central A/C, so I'll take whatever cooling I can get). The last few years, my go-to has been Neutrogena's Hydro Boost Gel Cream, but the second I tried this, I was converted. It's so moisturizing and soothing on my skin before bed, and I even love the extra glow it gives my skin when I use it in the morning before SPF. I also love that it's oil-free, so it works well with any makeup products I use on top (plus, my skin loves it). I will scream my love for this cream from the rooftops and am already dreading the day I run out.
—Beth Gillette, Beauty Content Manager and Associate Editor
Shop it now
La Roche-PosayDouble Repair Face Moisturizer UV SPF 30
For years, I was definitely guilty of not using sunscreen on a regular basis, thanks to many summers as a kid being lathered down from head to toe in the white, greasy substance. After trying out this broad spectrum SPF 30 moisturizer from La Roche-Posay, I notice a huge difference in the texture and brightness of my skin. The protection this daily facial moisturizer gives me is not heavy or greasy like many sunscreens can be. This has become my go-to face moisturizer all year round.
—Blair Bedford, Contributing Editor
Shop it now
AcureBrightening Super Greens Serum
My skincare routine is nothing without this serum! This serum has been the most persistent product in my arsenal. Even after switching to a more popular serum for hyperpigmentation issues for a while, I always go back to this brightening serum. It's light and airy on my skin and creates a supple and healthy-looking glow without any oiliness. Many products have come and gone over the years, but this serum is my ride or die!
—Blair Bedford, Contributing Editor
Shop it now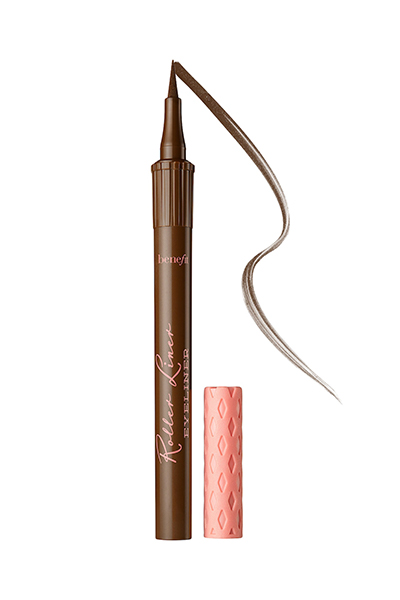 Benefit CosmeticsRoller Liner Waterproof Liquid Eyeliner
Thanks to lingering feelings of teenage rebellion—my mom only ever bought be brown eyeliner because it "brought out the color of my eyes"—I was married to my black liquid eyeliner for a long time. I can't believe I'm going to say this, but I actually think my mom was onto something. After watching TikTok videos of girls putting together soft, natural looks with brown liner, I knew I had to try it too. I purchased the Benefit Roller Liquid Liner in Matte Brown and am so glad I did. It gives me a more toned-down, natural look that's perfect for days I want to go for a "no makeup ?makeup look. And my mom was right: It really does bring out the color in my eyes.
—Garri Chaverst, Managing Editor
Shop it now
NARSThe Multiple
This has been a staple in my makeup bag for a whole decade at this point. While I'll occasionally opt for a different, more affordable highlighter stick, I pretty much always find my way back to the Nars The Multiple in Orgasm. It's a sheer version of the cult-favorite color that can be used pretty much anywhere. I use it as a highlighter with a more complete makeup look or on its own on days I'm not wearing makeup but want a little bit of color in my cheeks. True, the price point is not ideal, but this product will last you ages, even if you use it almost every day like I do.
—Garri Chaverst, Managing Editor
Shop it now
The INKEY ListOat Cleansing Balm
I resisted the idea of double cleansing for as long as possible, but I soon grew tired of washing my makeup off only to find myself looking like a raccoon from all the lingering mascara. I initially went into Sephora looking for the Farmacy Green Clean Cleansing Balm (which is a great product I sampled once before), but when I asked the sales rep if there were any other products they'd suggest, they pointed me to the Inkey List Oat Cleansing Balm. For just 10 bucks, you can get a cleansing balm that is just as good as the Farmacy version. While I was initially hesitant to start double cleansing, on days I'm wearing makeup, I use the Inkey List balm as my first step, and it absolutely does its job. No more raccoon eyes for me!
—Garri Chaverst, Managing Editor
Shop it now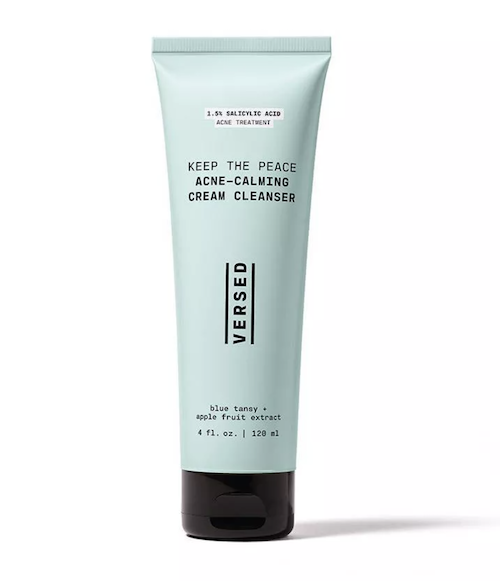 VersedAcne-Calming Cream Cleanser
I haven't gotten a new facial cleanser for years (I've been using a basic one my derm recommended when I was 20 lol), but when I stumbled upon this gem, I knew it was time to try something new. I love Versed products in general for their ingredients and affordable price tags, so I trust basically everything they do. This cleanser contains apple fruit extract to act as an exfoliant and blue tansy, which has anti-inflammatory properties (in addition to the 1.5 percent of salicylic acid). Not to brag or anything, but I have yet to have a breakout ever since using this product. It keeps my skin so clear without drying it out.
—Josie Santi, Wellness Content Manager and Associate Editor
Shop it now
ILIALimitless Lash Lengthening Mascara
I used only Maybelline mascara for over 10 years (yes, really—I obviously have beauty trust issues) and only recently started to branch out and try new options that are not only cleaner but also work better. I cannot get enough of the Ilia Lengthening Mascara. It seriously coats every lash and gives me major length. But the best part about it is that in the past, when I wore makeup more often, my eyelashes would start to look sparse or weak because of all the mascara. When using this mascara, my eyelashes look better naturally the more that I use it. The formula contains keratin, shea butter, and beeswax to nourish, condition, and strengthen your real lashes. So besides just making them look good when you put the mascara on, it's making them look good even when it's not on, and the results are seriously noticeable.
—Josie Santi, Wellness Content Manager and Associate Editor
Shop it now
ColourPopBlush Stix
I have been using Colourpop Blush Stix for over a year now, but I have recently rediscovered my love for them. Blush is trending in a big way this summer, and these are the perfect cream blush products for a little something extra. I sometimes have trouble blending liquid blush but want more than a powder blush, and this is exactly that. I love how it makes me look sunkissed in a natural way.
—Jess Welsh, Junior Graphic Designer and Assistant Editor
Shop it now
Supergoop!Glowscreen Sunscreen SPF 40 PA+++
I recently purchased this sunscreen after seeing it all over TikTok (of course). I've been using it for a little while now, and every time I wear it, I get tons of compliments on how glowy my skin looks. I like to use it as a primer under foundation or mix it with a tinted moisturizer for that perfect dewy summer skin look. This is the perfect way to incorporate SPF into your routine all summer long. It's definitely shiny, so if you have super oily skin, this might not be for you.
—Jess Welsh, Junior Graphic Designer and Assistant Editor
Shop it now
MACStudio Radiance Face And Body Radiant Sheer Foundation
I am team "no foundation ?once it's warm out, but since my skin is so utterly dry (and generally a lot more fair than my face), I like using something tinted and lightweight to even out my skin tone and give me a little glow. This is a years-old favorite of mine, and after seeing a million influencers promote it this month since it just got revamped, I decided to order a new one and give it a shot again, and it truly is everything to me. It looks like skin but not in the Glossier Skin Tint way in that it looks like skin because it's so sheer that it does nothing. Instead, it's undetectable but makes you look like you truly just have slightly better skin than you really do. It is the absolute perfect summer foundation, and on my upcoming trip, I'm only packing this.
—Madeline Galassi, Fashion Content Manager and Associate Editor
Shop it now
Huda BeautyGloWish Soft Radiance Bronzing Powder
I am an absolute sucker for a bronzer, and I own more than I would reveal to the general public under any circumstance. I bought this on a whim when I was just browsing the aisles of Sephora recently, and let's just say the five-star reviews are warranted. This is the perfect bronzer for summer. It isn't shimmery or sparkly whatsoever but leaves you looking more glow-y than a matte bronzer does. I love using my Mac Face and Body, some mascara, and then just sweeping this basically all over my face—this is my daily makeup right now. It is absolutely stunning.
—Madeline Galassi, Fashion Content Manager and Associate Editor
Shop it now
Sephora CollectionBest Skin Ever Liquid Foundation
Let me tell you right now that the hype is real! Now that summer days are in full-force, putting on a whole face of makeup is not the move. I'm looking for something easy and lightweight but still gives that coverage I need. This foundation is the best thing that has come into my life in terms of beauty. I love that it literally feels like skin but highlights your natural beauty and makes you look like the glowing queen you are. Trust me, you need it now!
—Alex Pizarro, Editorial Assistant
Shop it now
OLEHENRIKSENC-Rush Vitamin C Gel Moisturizer
If there was one moisturizer I would take with me to the grave, it would be this one. Not only does it smell so refreshing, but it also makes your skin look good as new. And the best part is that you really only need a little to cover your face. Every time I put it on, it's almost like a little treat because it feels so nice and cooling on the skin, and I promise you, you will get compliments left and right about how great your skin looks after trying this out.
—Alex Pizarro, Editorial Assistant
Shop it now
CaudalieGrape Water
This grape water mist is easily one of my most used products, but I never talk about it even though I keep a can in my gym bag, at my desk, and in my fridge at all times. I typically reach for this between steps in my routine when I need my skin to be damp but not wet or when I need to instantly soothe any irritation and redness I may be experiencing. It is also great straight out of the fridge on a hot summer day when I need a quick yet cool refresh or an extra dose of hydration.
—Adele Ashley Adams, Contributing Beauty Writer
Shop it now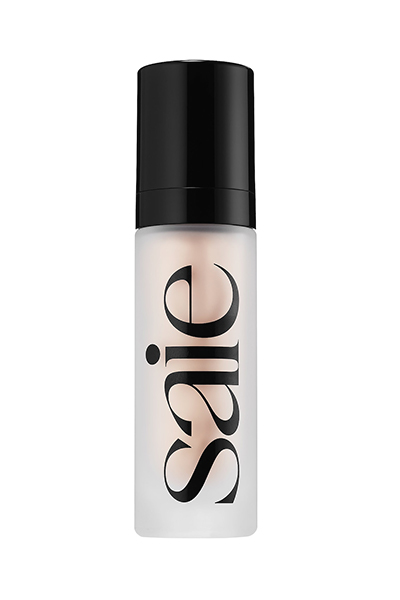 SaieGlowy Super Gel Lightweight Dewy Highlighter
The last thing I want to do on a hot summer day is use foundation, and I have yet to find a tinted moisturizer that feels just right. But I started mixing a pump of this highlighter into my moisturizer, and it is exactly what I was looking for. It is lightweight, so my skin can still breathe, it doesn't dry out my skin, and most importantly, it leaves me with a subtle, dewy glow that I always get compliments on.
—Adele Ashley Adams, Contributing Beauty Writer
Shop it now
DermalogicaDaily Microfoliant Exfoliator Add to Basket
I was a diehard fan of apricot face scrubs as a teen, but I moved away from physical exfoliants after I began to learn more about how they can actually damage the skin. So when I received a sample of this powder exfoliant, I was skeptical. The Dermalogica Daily Microfoliant is a very fine powder that dissolves into a little bit of water or a gel cleanser to create a paste. For a physical exfoliant, there is no "grittiness" to it, and I always notice how smooth my skin is after I use it. My skin also appears brighter, my skin tone evens out, and products absorb faster the longer that I use it.
—Adele Ashley Adams, Contributing Beauty Writer
Shop it now
AesopB & Tea Balancing Toner
Although I'm not a toner-every-day kind of person, this simple and light toner from Aesop has been a part of my beauty routine for years, and I absolutely love it. This product has an immediate cooling effect on my skin and is particularly useful when I am trying to get rid of stubborn blemishes. Especially when I transitioned between the dryness of Denver, Colorado and the literal swamp that is my new home in Washington, D.C., this versatile toner helped my skin weather the storm. The green tea gives this toner such a satisfying and subtle scent that is amazing both morning and night. Bonus points: It may be a bit of a splurge, but Aesop is an incredible plant-based brand.
—Emma Ginsberg, Editorial Intern
Shop it now
The OrdinaryNatural Moisturizing Factors + HA Add to Basket
As a person with sensitive skin, I was very hesitant about finding a new moisturizer that didn't cause my skin to become irritated. I've been using The Ordinary moisturizer for a few months now, and it has easily become one of my favorite beauty products. For less than $10, this product has made my skin feel so soft and smooth. As a college student, I am usually pretty busy and don't have a lot of time to do my whole skin care routine every day. But no matter how stressed and overwhelmed I am, this moisturizer is the one thing I always use before doing anything else in my day!
—Caitlyn Somers, Editorial Intern
Shop it now
The Beauty Products Our Editors Splurged on and Think Are Actually Worth ItREAD NOW