Cyndi Ramirez-Fulton
As the term self-care is being tossed around a lot this year, one woman is redefining what it means to slow down and pamper yourself in New York City. After realizing the typical spa was no longer fulfilling her relaxation needs, Cyndi Ramirez-Fulton and her husband created their own "destination for modern self-care ?on the Lower East Side at Chillhouse. This boutique-style cafe and day spa is an experiential space designed to put its visitors at ease. Customers can choose from a wide range of services such as a CBD manicure or the "Hangover Cure ?massage, all while enjoying a wellness-based latte.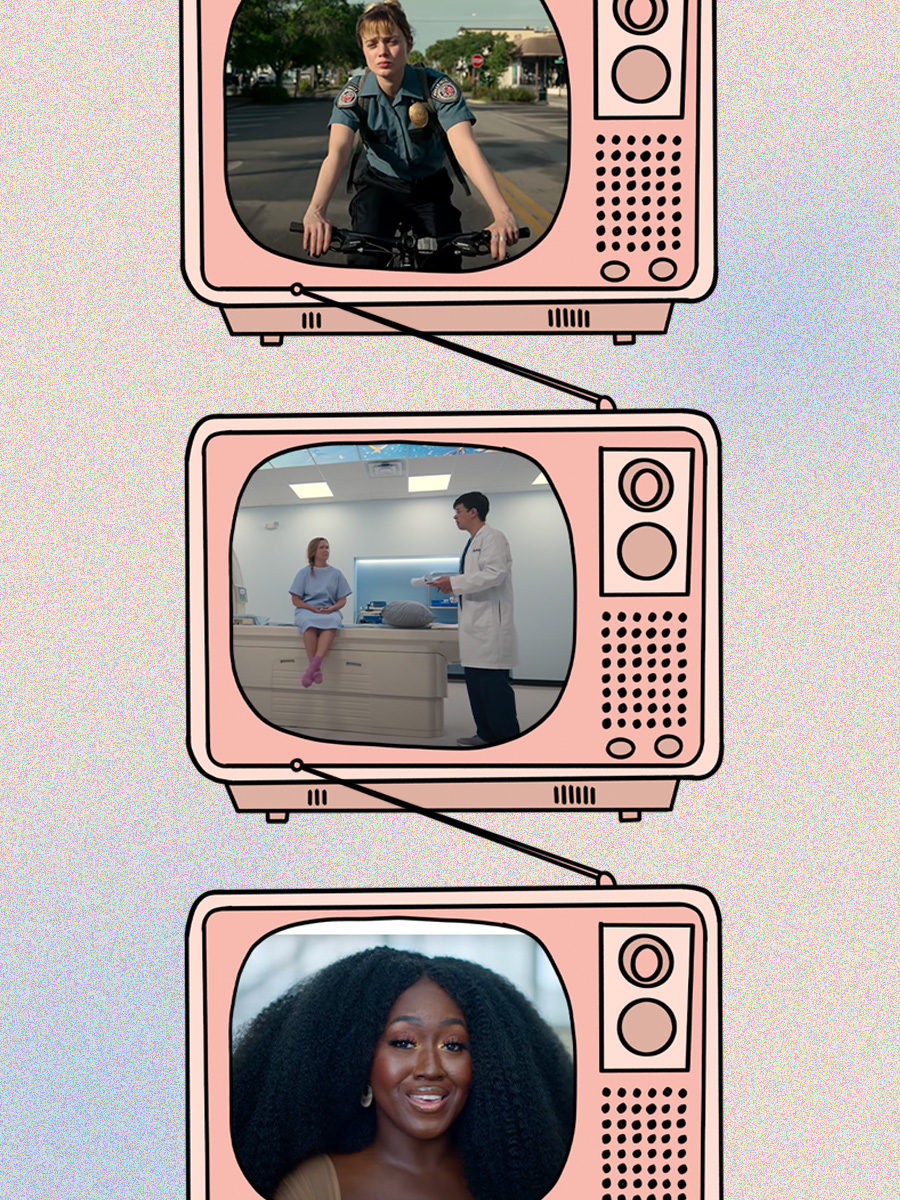 CURRENTLY TRENDING / CULTUREThe New Shows and Movies We'll Be Watching This Monthour complete streaming guide 🛋️READ MORE
I originally followed Cyndi on Instagram for her bold, trend-setting style and next-level nail art game (no seriously, she'll put your weekly manicure to shame), but stayed for her boss-babe attitude and female empowerment. From teaching workshops to speaking on panels to being named ?0 of Tomorrow ?by WWD, she consistently demonstrates her unwavering passion, hard work, and entrepreneurial spirit.
After dropping out of college twice, Cyndi became the queen of connecting the dots with brand and hospitality consulting. She then went on to create her own blog, Taste of Style, where she shared her love for all things food and fashion in New York. When she decided to combine her self-care passion and experience in hospitality, it became clear that Chillhouse was the right move. Since then, she has extended the brand with The Chill Times where readers can expect to learn about beauty, health, and wellness. She also has just announced the works of a second Chillhouse location! We had the opportunity to talk with Cyndi on all things Chillhouse and entrepreneurship. Keep reading to find out what self-care really means to her!
Name: Cyndi Ramirez-Fulton, founder of ChillhouseAge: 34 Current Location: New York City
What was your first job and how did you land it?
I was a model when I was a young teenager, so I was working at a pretty young age. Otherwise, my first "job ?was at a tanning salon when I was 16 years old where I basically ran the joint for $7 an hour. What a time that was!
You originally founded the award-winning site Taste The Style, a destination for all things food and fashion. Can you tell us a little bit about this site and what made you want to start it?
Yes! I actually started the site as a scrappy (and poorly designed/written) restaurant review blog about 12 years ago! A few years later, my husband reminded me how he really liked it and that I should revive it. So I did, and this time I added a style element. My reason for relaunching & rebranding the site was because I personally loved both industries equally and, selfishly, didn't want to choose between which one I blogged about. I also felt like there were so many women out there who wanted to know where to go eat and what to shop. Why do we need to visit two totally different sites for that?
I'm proud of everything I managed to do with the site. I met some of my closest friends and collaborators during that time and it surpassed my personal career goals. It also educated me on the power of quality content and allowed me to push my own creative boundaries, which I wouldn't have been able to do otherwise.
Let's talk about your latest entrepreneur endeavor! Chillhouse is a destination for modern self care. I'm obsessed! What inspired this idea?
Honestly, it was a random Sunday with my husband and when we were trying to figure out what to do. We discussed getting massages but realized we didn't love our options. It sparked this realization that spas are kind of antiquated and sterile. I was never inspired to visit any of them and they also were fairly expensive. I'd get anxiety post-massage just thinking of how much I'd spent ?I felt like I didn't deserve to spend that kind of money on myself, you know? It was pretty obvious that the industry needs some modernization and a new message ?so that's what we did!
What can visitors expect to experience while at Chillhouse? What is your favorite service?
When you walk in, you're greeted with a cafe packed with amazing latte options utilizing our signature adaptogenic blends. You can also shop an amazing assortment of products we love ranging from bath salts to Chillhouse merchandise.
From there, it opens up into our nail area, and toward the back it's all about our amazing massages. With space number one, I like to think of it like we're easing you into the deepest form of chill.
And ?I don't play the favorites game ;-).
How does Chillhouse work with the typical New Yorker Lifestyle?
To start, it's a gradual ease into chill. As New Yorkers, we can't be expected to always be in 'lax mode. It takes us a minute to unwind and settle into a new environment, mostly because we're constantly navigating the hectic streets and dodging erratic situations. Chillhouse is realistic in its approach ?it's a breath of fresh air for New Yorkers in the most honest of ways. We provide the things you know and love, yet also introduce you to newer trends in wellness in ways that are authentic to us and our customer.
You've worn many hats, from Brand Director to Editor in Chief. What made you want to finally start your own business? How did your past experiences prepare you for this?
I actually like to reflect on this a lot. Honestly, I just felt like I didn't have another option. It's always been very clear to me that I don't like authority. My only "real boss ?treated me like a close friend and partner, not like an employee. When we parted ways and I started interviewing for jobs, I came to the realization that I'll never get another opportunity like that one job. To this day, it was the only salaried job I've ever had ?and I was the first hire at that job, therefore I've never not felt like I was an entrepreneur. The beauty of that job is that I was working with other entrepreneurs from all walks of life ?incredibly smart and innovative ones at that. It inspired me to think like an entrepreneur before I even knew I wanted to be one. But then again, I really had no option. I know no other way now.
My only 'real boss' treated me like a close friend and partner, not like an employee. When we parted ways and I started interviewing for jobs, I came to the realization that I'll never get another opportunity like that one job
What is the hardest part of running your own business? The best part?
The hardest: pushing through. Keeping that confidence and faith alive daily. It's an emotional rollercoaster, most definitely. I always say to get a killer support system. This paired with some personal TLC will get you through.
The best part: being in control of my own fate.
What's the best piece of career advice you've ever received?
Your personal brand is everything. Don't sleep on it and keep working at it no matter what you're doing in life.
As a first-generation Colombian-American, how has that contributed to who you are today?
I'm not entirely sure other than that I grew up watching my mother run a business primarily marketed to Latinos, so I was constantly surrounded by my people growing up. My mother also has 14 brothers and sisters (insane, I know), 10 of which are women. Growing up I was constantly surrounded by supportive women who are strong yet compassionate ?brutally honest, yet caring. They are what helped shape me. Colombian women are some of the strongest/most resilient women in the world. I stand by that and I am proud to be one of them.
Your personal brand is everything. Don't sleep on it and keep working at it no matter what you're doing in life.
Your outfits on Instagram are amazing. How would you describe your personal style? Where do you get your fashion inspiration?
Thank you! I've always had a good knack for fashion, I'd say. Even at a young age. A lot of my inspiration comes from vintage photos of women in the '70s and '80s. I'm big into nostalgic dressing but also bounce around between trends and style personalities. One day I'm wearing a cowgirl hat with blue jeans, the next I'm wearing Nikes and a bucket hat. I like to switch it up, always. It's what keeps fashion fun.
Okay, we have to talk about your nail art game. It's next level. Where do you get your ideas for the designs?
Thank you! My dear friend Eda who goes by "Lady Fancy Nails" really set the tone of our nail designs, and from there I've expanded on them a bit. I look at shapes that may be trending and color combinations that are speaking to our customers. From there, I put together a mood board made up of a variety of imagery and our lead nail artist gets to work.
You've been known for empowering and supporting women on your platform. What does women supporting women mean to you?
I'd be nowhere without the support of the women in my life, but I truly think you have to earn support, not just ask for it. We're all busy on our own grind, so I can imagine it's hard to create a female network if your business doesn't directly require you to. I always say though, supporting women is a non-negotiable for any women of any kind. If you're not uplifting your sisters, you're not going to get anywhere in life. There's no room for that catty shit anymore.
If you're not uplifting your sisters, you're not going to get anywhere in life. There's no room for that catty shit anymore.
What would you tell other women who are wanting to switch careers, or even become an entrepreneur?
It depends on where they're at or what they're trying to accomplish. I'd probably ask them why they're looking to make that leap. If it feels sincere or if it feels as if they're unhappy in their current work status, I'd say go for it. We're all scared to fail and it's totally OK if we do. You'll never know what will happen unless you give it a try.
What does "self-care ?mean to you?
My current definition is: I'm the priority and here is how I'm going to prove it to myself today. That's it.
What advice would you give to your 22-year-old self?
Stay away from that loser boy, stop partying, and read more books.
Cyndi Ramirez-Fulton is The Everygirl…
Favorite date night activity?Swanky dinner and Comedy Cellar
Self-care activity you love?Massage and steam room
Piece of clothing you wish would go back in style?Pretty sure I can get away with this now but bell bottoms and a tie dye tee.
Your camera roll is full of…Selfies
Beauty item you recommend to everyone?There's too many but off the top of my head, but Noto Botanic's Multi-Bene Stain Pot Occilate. It's an amazing multi-use, all-natural tint. You can find it here.